Okawachi Kogen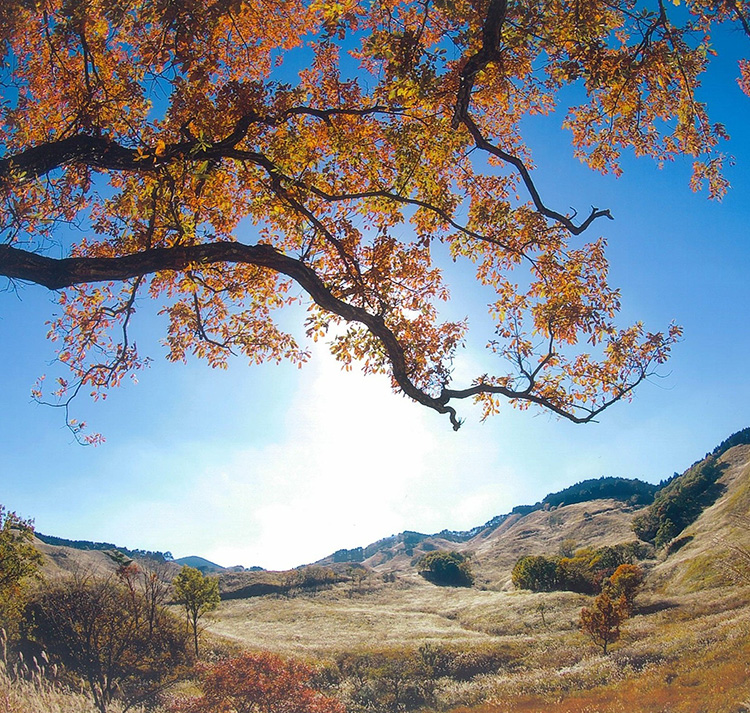 One of Kansai's finest unspoiled mountain highland areas
Okawachi Kogen is a mountain highland area ranging from 800 to 1,000 meters above sea level. It is located nearly in the center of Hyogo Prefecture, and in the northwestern quadrant of Kamikawa-cho. It has a refreshing climate with annual average temperatures from 4-6º C lower than that of Himeji, Kobe, or Osaka. The area is in the Seppiko Mineyama Prefecture Nature Park, and consists of three districts noted for their natural beauty -- Tonomine Kogen, Mineyama Kogen, and the Otaike district.
Tonomine Kogen
Tonomine Kogen has one of western Japan's largest fields of susuki, or Chinese silvergrass, stretching nearly 90 hectares. The field is burned every spring to ensure that it is maintained in a lovely state. It is truly a majestic sight when the ears bloom in the fall to cover the entire field.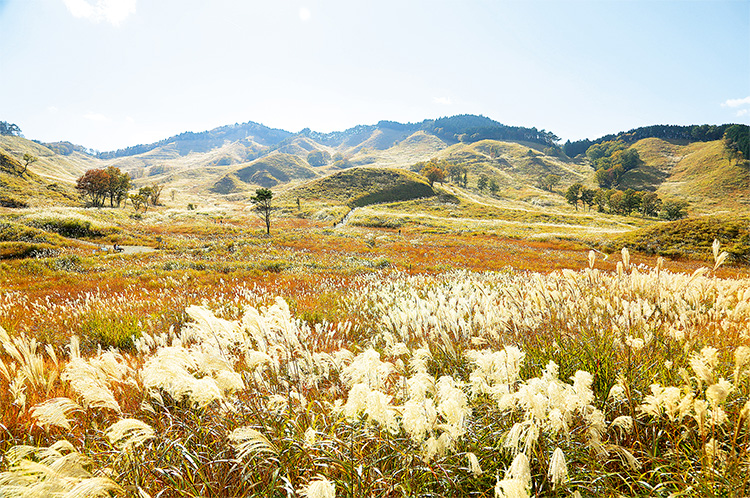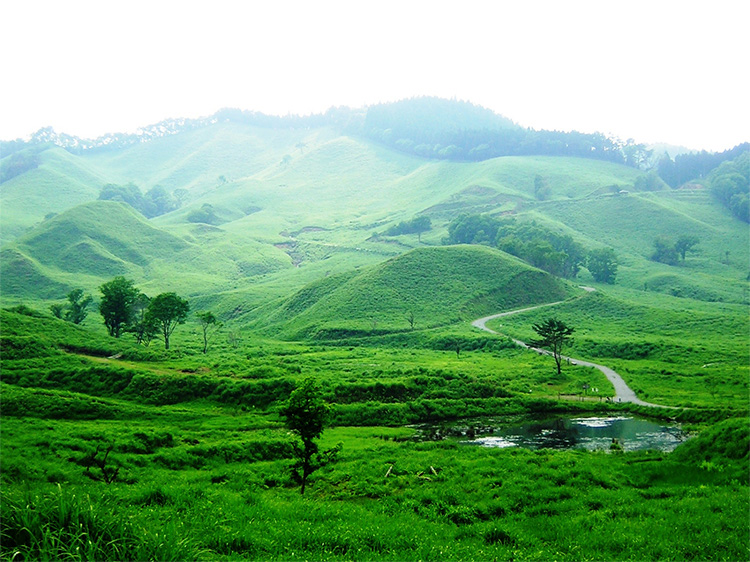 Explore
the
film site

The movie Norwegian Wood was filmed here.
Norwegian Wood, the novel by the world-famous author Haruki Murakami, was made into a movie. The most important parts of the movie were filmed at Tonomine Kogen and Relaxia no Mori in Mineyama Kogen.
Scenes from the filming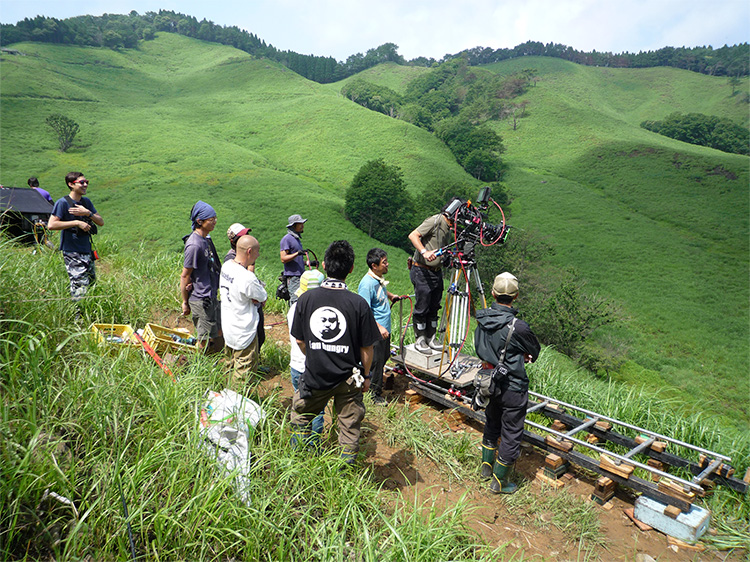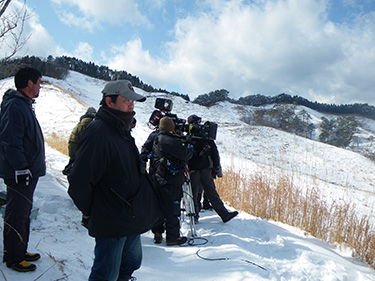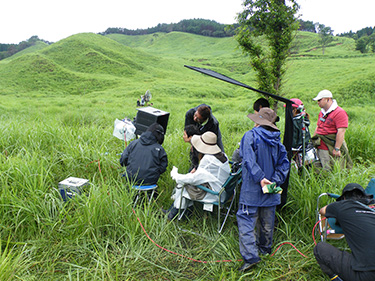 Filming dates

21 days total
October 2008, February 2009, June to July 2009
Performers

Kenichi Matsuyama as Watanabe
Rinko Kikuchi as Naoko
Reika Kirishima as Reiko
© 2010 Norwegian Wood, Haruki Murakami / Asmik Ace Entertainment Fuji Television
Places to drop by for quick break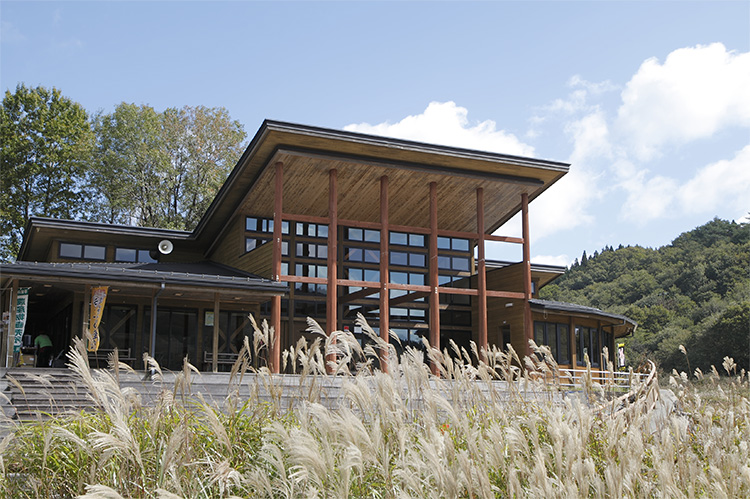 Tonomine Shizen Koryu-kan
Hours: 9:00 a.m. to 5:00 p.m.
TEL 0790-31-8100
Closed: Mondays, and in winter from yearend to the end of March
This was built as a facility for the protection and management of Tonomine Kogen, and as a base camp for enjoying outdoor activities and sightseeing in nature.
The built-in observation terrace offers a sweeping view of the large susuki field, and as a place to take a break from your walks.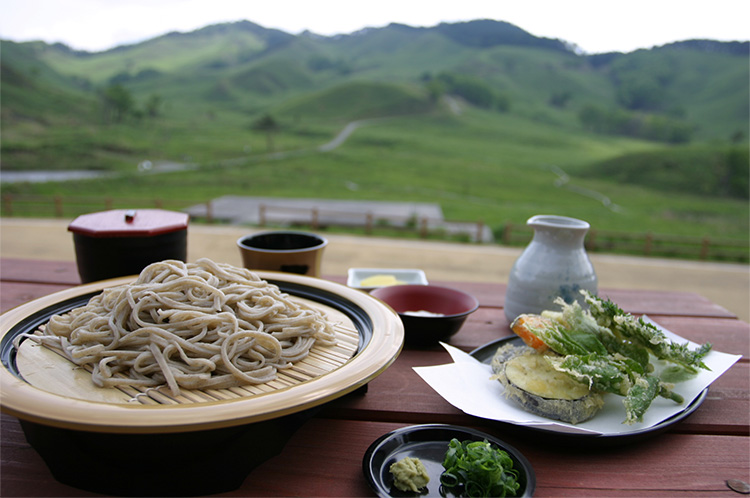 Heike Soba Dokoro Koryu-an
Hours: 10:00 a.m. to 4:00 p.m.
Closed: Mondays, and from early December to April
This soba restaurant offers a full view of Tonomine Kogen. Enjoy the freshly ground, rolled, and boiled Heike soba with a flavor unlike that of any other.
Mineyama Kogen
Mineyama Kogen is a large, conical-shaped mountain highland that is surrounded by Mt. Gyosei (1,077 meters), Mt. Mine (1,038 meters), and Mt. Yotaka (1,056 meters). It has the typical highland scenery that includes such trees as the sawtooth oak and the Japanese oak, as well as fields of bamboo grass. It was formed by periglacial operations during the glacial period and is characterized by a gently sloping topography.
WHITE PEAK
"Mineyama Highland Resort White Peak" can enjoy skiing in winter. There are 3 courses (862 meters A course, 1,170 meters course B, 937 meters C course) in this ski resort. There is a hotel in front of the ski resort, and you can enjoy Night skiing.
GREEN PEAK
Mineyama highlands is located on 930 meters above the see level,and the starry sky is just above you if it is a fine day.
Please feel the nature at our resort setting.
T

he highland lodging facilities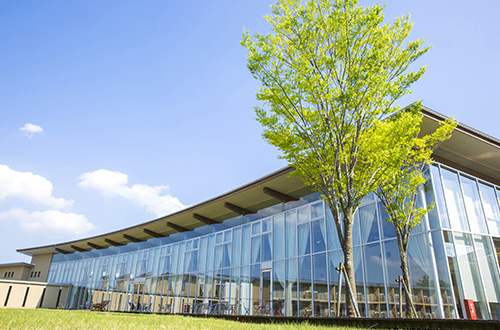 Mineyama Kogen Hotel Relaxia
This oriental resort hotel at Mineyama Kogen, surrounded by peaks more than 1,000 meters high, seems as if it is in a different country. Visitors can enjoy themselves to their heart's content with walking courses, tennis courts, and other outdoor recreational facilities. There are also restaurants with cuisine, primarily Japanese foods, using the finest local ingredients.
881-146 Kamioda, Kamikawa-cho
TEL 0790-34-1516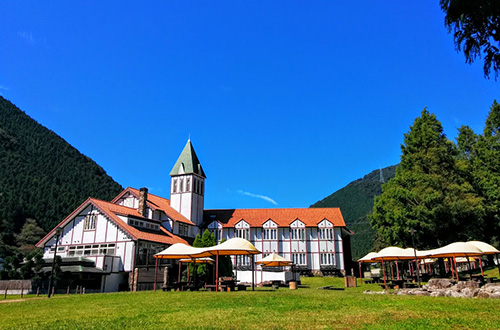 Hotel Monte Rosa
This small resort hotel is an excellent way to enjoy the great outdoors in Kamikawa-cho. The barbecue garden, outdoor baths, and other facilities make for a relaxing experience.
987 Hase, Kamikawa-cho
TEL 0790-35-0777
Relaxia no Mori
This is the perfect spot for refreshment in mind and body while taking a stroll with the sound of water in rippling in clear streams next to the trees, the pleasant breeze, and the forest fragrance. The trail is 3.6 kilometers long, of which 0.8 kilometers is paved with woodchips to facilitate a feeling of kinship with nature. There are also bowers and rest rooms along the trail.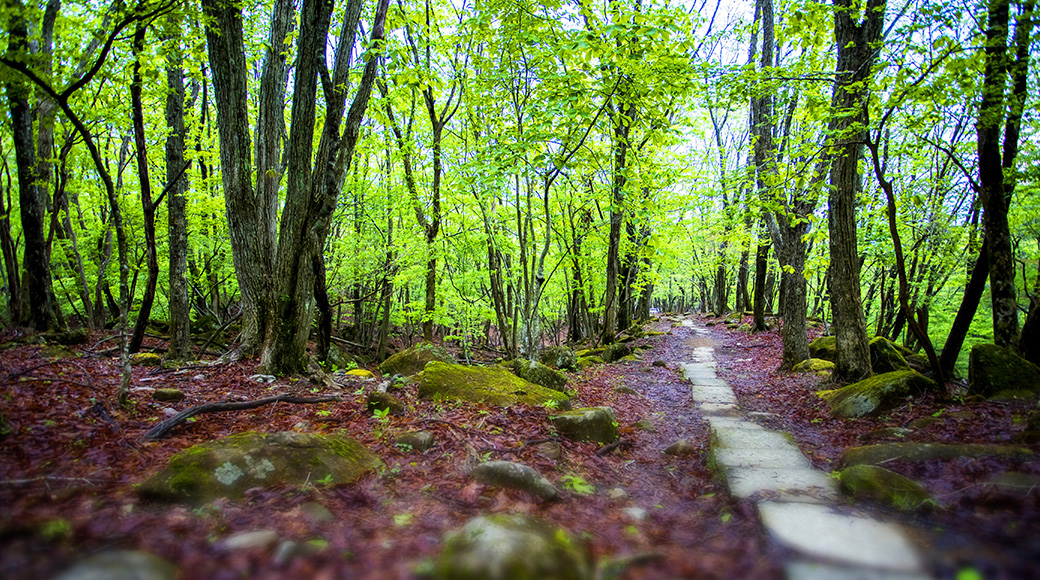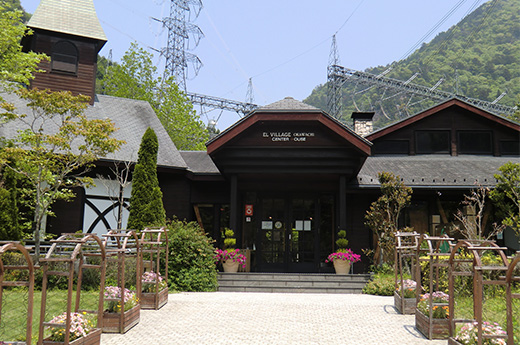 El Village Okawachi
Visitors can hear the warbling of small birds at this PR facility for the power station. Learn about the mechanisms of water power as you take a casual stroll among the flowers and trees. There's also homemade cake at the coffee shop.
Inquiries and applications for visits 34-1 Hase, Kamikawa-cho TEL 0790-35-0888
Open 10:00 a.m. to 5:30 p.m.
Closed Mondays
15 minutes by car from Tonomine Kogen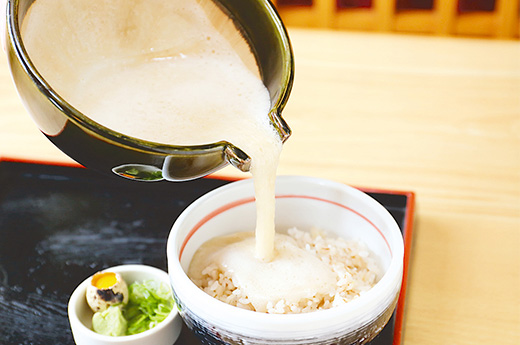 Waterwheel Park Kotton-tei
Visitors to the park can see one of the few waterwheels that still remain in the country. The cafeteria offers meals made with local foods. You can try your hand at making konnyaku or soba, and there's also a gift shop.
87-1 Ageiwa, Kamikawa-cho TEL 0790-34-1666
Open 11:00 a.m. to 7:00 p.m.
Closed Wednesdays
25 minutes by car from Hotel Relaxia
Enjoy and experience
Ochi River Meisui Road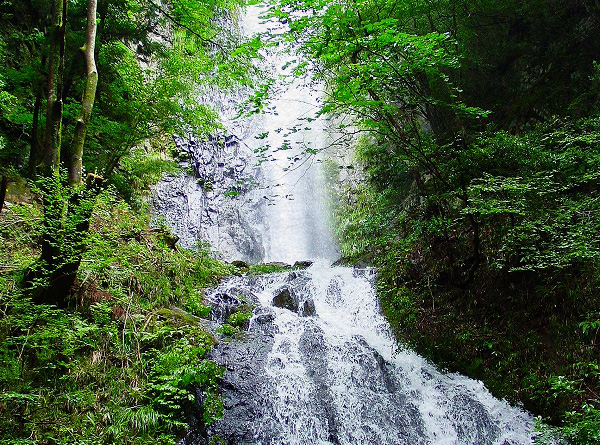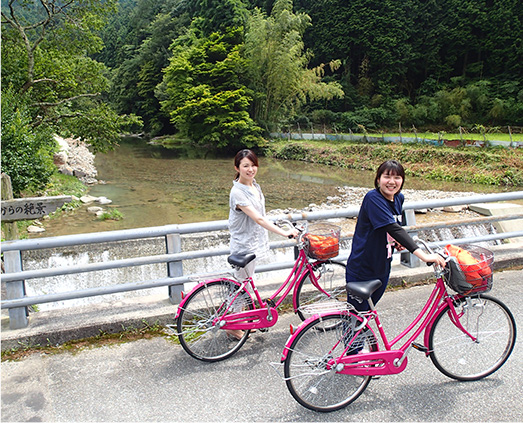 The bicycle descent on the Ochi River Meisui Road
The popular bicycle descent on the Ochi River Meisui Road starts with taking your bicycle on board the bus from the center of Kamikawa-cho to Shinden Furusato Mura at the northern edge of town, and then riding the roughly 20 kilometers down the mountain. It's a quest for natural beauty as you ride along the river enjoying the noted sightseeing areas of Kamikawa-cho. An added bonus is the fragrance of the flowers along the way, and the sight of the flowering grasses along the roadside. Apply three days before you plan on taking the trip, which is available from April 1 to the end of November every year.
Inquiries and applications
Shinki Green Bus Awaga office(0790-32-1021)
S

pots along the Meisui Road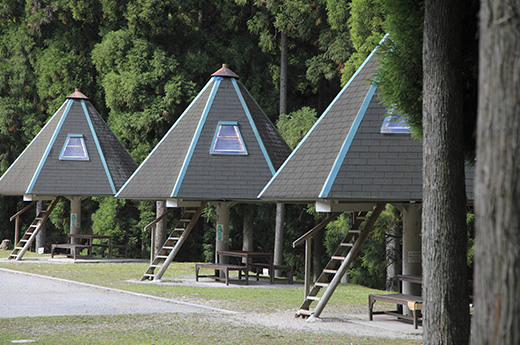 Shinden Furusato Mura
Shinden Furusato Mura is an all-purpose outdoor facility surrounded by lush greenery 460 meters above sea level in the northeast part of Kamikawa-cho. In addition to camping and other outdoor activities, visitors can learn how to make soba and konnyaku. You can also savor tempura-soba and other delicious meals with local soba and vegetables at Soba Restaurant Sengamine. It's just the place to fortify yourself with a meal before heading down the mountain on your bicycle.
340-1 Shinden, Kamikawa-cho, Kanzaki-gun, Hyogo Prefecture
Closed Wednesdays (other than July to August)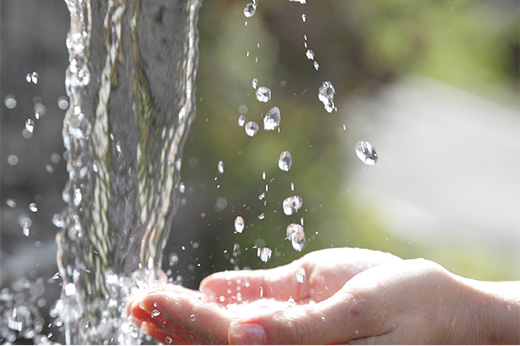 Sengamine Nanzan water
23-1 Ohata, Kamikawa-cho
At the foot of Sengamine is natural spring water filtered through granite 162 meters below the earth's surface. Visitors can purchase mizu manju, warabimochi, and other confections here.
0790-31-5508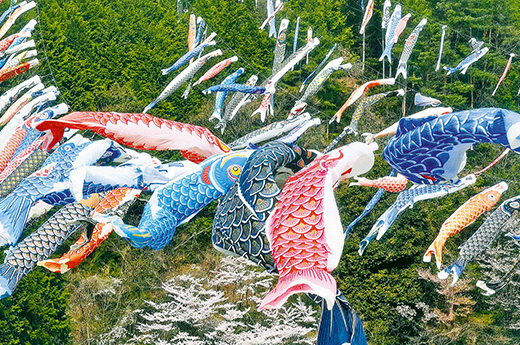 Green Eco Kasagata
This site presents outdoor events year-round. There are extensive facilities, including camp grounds, wood lodges, cottages, multipurpose fields, and a gym. There are also lodging facilities and a restaurant. Another popular attraction is the Komeiseki hot spring, said to be effective for stiff shoulders and the chills. Don't miss the 1,000 carp streamers hung from April to the end of May.
1019-13 Miyono, Kamikawa-cho
Closed: December 29 to January 1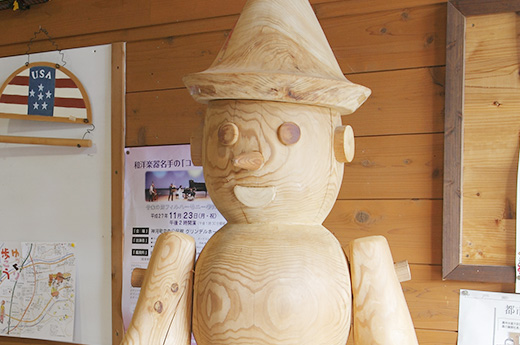 Pinocchio-kan
This facility symbolizes Kamikawa-cho, a town known for wood and trees. It sells products made from locally grown cedar and cypress. It also offers classes in woodworking and other topics related to nature. The shop class held during summer vacation is very popular among children.
30-1 Yamada, Kamikawa-cho,Kanzaki-gun, Hyogo Prefecture
Closed Mondays
Gin no Bashamichi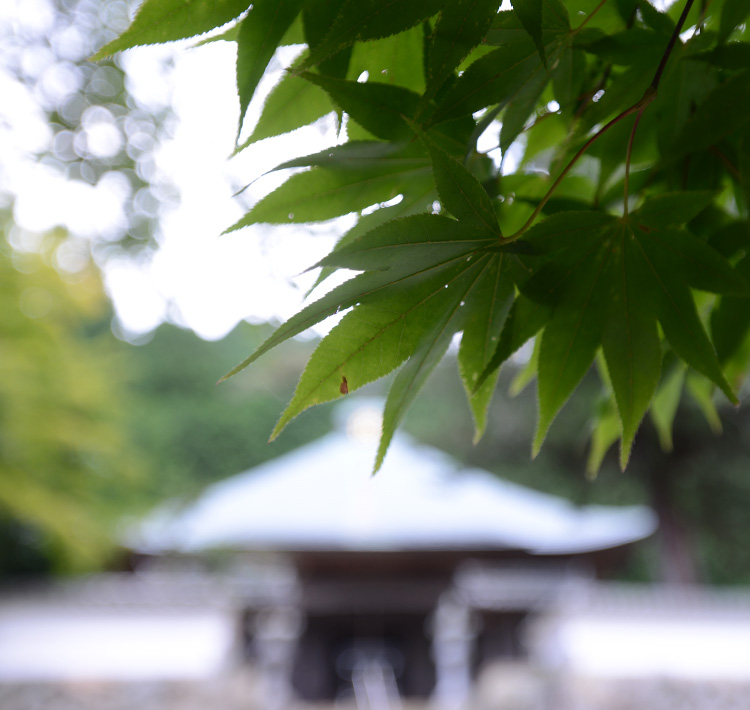 The Gin no Bashamichi is a road built in the early Meiji period that extends for about 49 kilometers between Ikuno and the port at Shikama. Formally known as the Ikuno Mine Dormitory Wagon Road, it was for the exclusive use of wagons and corresponded to that era's expressway. In the 130 years since it was built, it has been largely converted into national and prefectural highways, and part of it has become the JR Shinkansen station at Himeji. Passing along the road today, however, one can still see traces of the past and many memorial markers.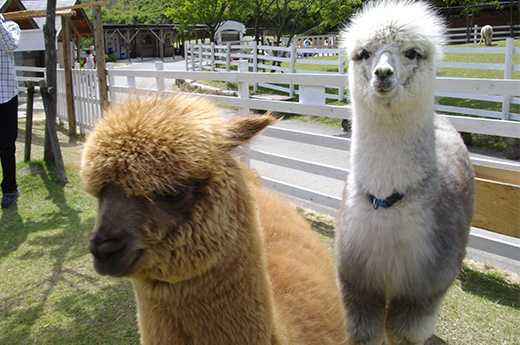 Yodel Forest Park
Everyone from children to adults will enjoy this spot for recreation, eating, and other activities. There's west Japan's first alpaca ranch and a park for children to play with small animals. New events are performance shows featuring birds and dogs. There are also activities for making crafts, bread, and ice cream with butter. It's also possible to play in the Jabujabu Pond on the site.
1868 Izasa, Kamikawa-cho, Kanzaki-gun, Hyogo Prefecture A farmers' market with fruits and vegetables is open every day.(Admission is free to the farmers' market only. (0790-32-3002)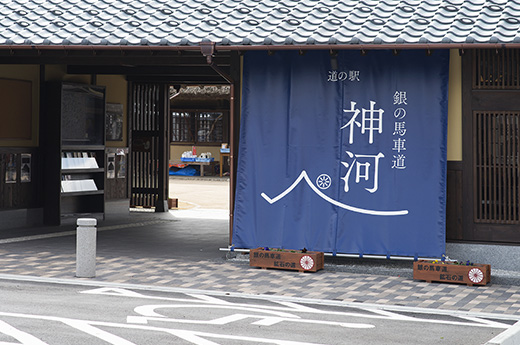 Kanzaki Daikoku Tea House
Located on National Highway #312, the Daikoku Tea House stands out for its thatched roof. The tower of Daikoku-san holding onigiri and seated on the straw bags is a Kamikawa-cho landmark. In addition to meals featuring soba and udon, visitors can purchase special products from the area, bento meals, and sushi. It's the perfect spot to take a break. There's a market in the morning on Sundays only.
88-10 Yoshitomi, Kamikawa-cho, Kanzaki-gun, Hyogo Prefecture
Closed Thursdays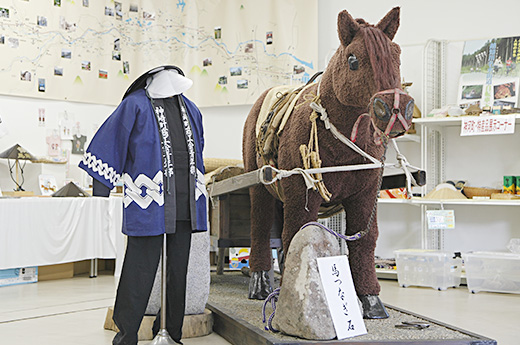 Gin no Bashamichi Koryu-kan
About 40 minutes from Okawachi Kogen
Using the former Awaga branch of the Tanyo Shinkin Bank, this facility was built as one of the municipal development projects in the Awaga district of Kamikawa-cho to serve as a community center. The Gin no Bashamichi Network Association will create a list and collect items associated with the old road, and display the items and old photographs here.
78 Nakamura, Kamikawa-cho, Kanzaki-gun, Hyogo Prefecture
Closed on Tuesdays and at yearend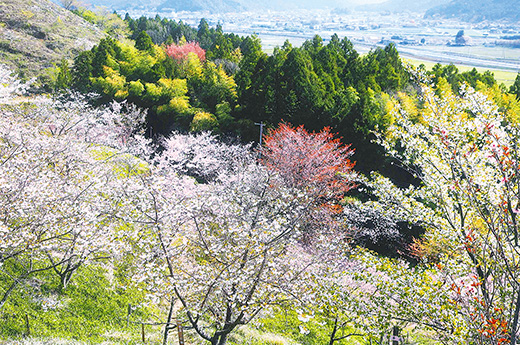 Oka-en
Oka-en, located on a Kanzaki mountain covered with cherry trees, is an open air museum with 3,000 full-size cherry trees of 240 varieties from around the world covering 15 hectares at the base of Mt. Otake in Higashi Kashio, Kamikawa-cho. Because the blooming time for all the varieties differs, there is a gradual shift within the park during the cherry blossom season of the portion where trees are in full bloom. The park is laid out so that visitors can view and appreciate each of the trees at their leisure, rather than to create the effect of a single space in bloom at once.
146 Higashi Kashio, Kamikawa-cho, Kanzaki-gun, Hyogo Prefecture (Only during the period the trees are in bloom)
Open: Around March 20 to early May
Kamikawa-cho History and Tourism Guides
Call the Kamikawa-cho Tourism Association to inquire about tourism guides
TEL:0790-34-1001
Take a stroll with a guide through the historical sites of interest to follow the footsteps of our forebears. Stops include Fukumoto-han, Tesshin-ji Temple, Banshuinudera, Horaku-ji Temple, and Gin no Bashamichi. There are also sales of original products to commemorate your visit. (Fees and reservations required)